Connector which connects electric wires
EV/PHV Charging Connector
Used when charging electric vehicles and plug-in hybrid vehicles at user's home or at a charging spot  as a connection between the vehicle and the power supply. By conforming to the standard specified connector configuration, the connector can be used at any charging spot throughout Japan. It has been proved to exhibit sufficient safety performance as a result of repeated experiments based on outdoor use.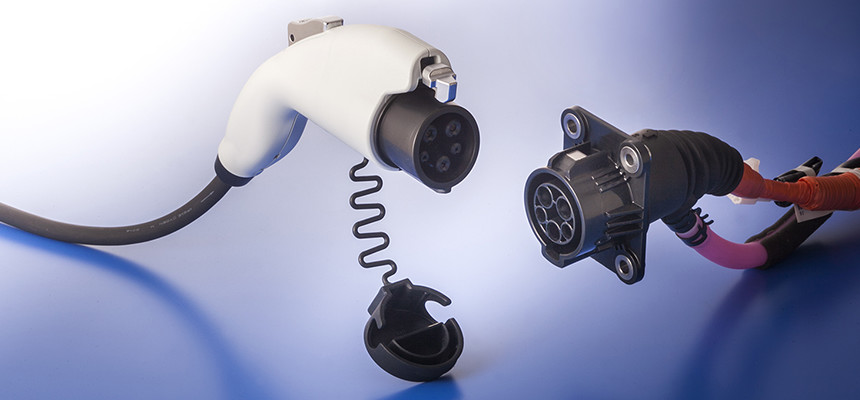 Properties
In relation to the standards concerning insertion and removal, connection stability was maintained after twice the number of recommended insertions and removals. Furthermore we improved the cable's flexibility and resolved problems with the cable at the time of charging.
Technology
Employment of the connection process that secures stable connection after multiple insertion/removal operations conducted outdoors. Employment of the mode for protecting the conductive point in order to obtain IP44 protective classes with respect to water-proof and dust-proof properties.
TS Series Sealed 0.64mm Type Connector
Connectors for connecting signal wires or connecting wires and device which sealed is required for on-vehicle environment. As sealing structure, seal ring is used for connector mating and individual wire seal is used between housing and wire. They can achieve both miniaturization and high reliability.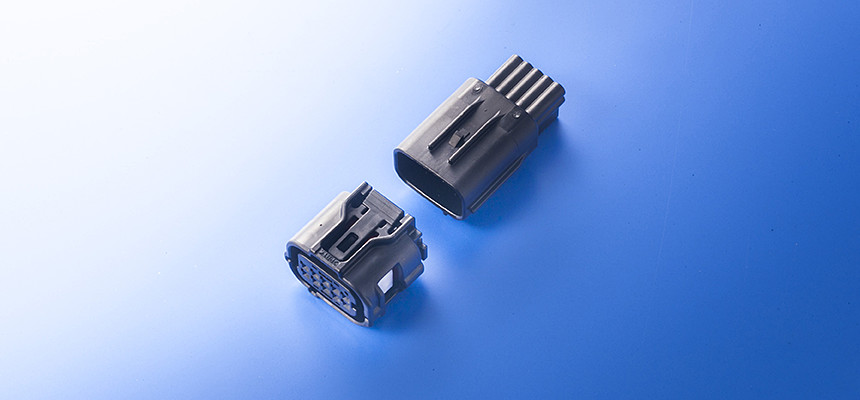 Properties
Achieve both miniaturization and high reliability. These connectors are used in engine compartment, exposed to heat and vibration from the engine, which is regarded as the most severe environment. There are some hybrid connector variations containing power circuits such as 2.3mmⅡ and 4.8mm terminal.
Sealed 153way connector for Engine ECU
PCB header connector mounted on Print Circuit Board in engine control unit.
Properties
Miniaturized by using mat seal for wires. Control unit is mounted in engine compartment, so applying strain relief structure to minimize the thermal expansion affect on soldering portion. This results in high contact reliability.
High Frequency Connector
Connector for coaxial cable for connection between the antenna and on-board multimedia units such as TV, radio and car navigation system.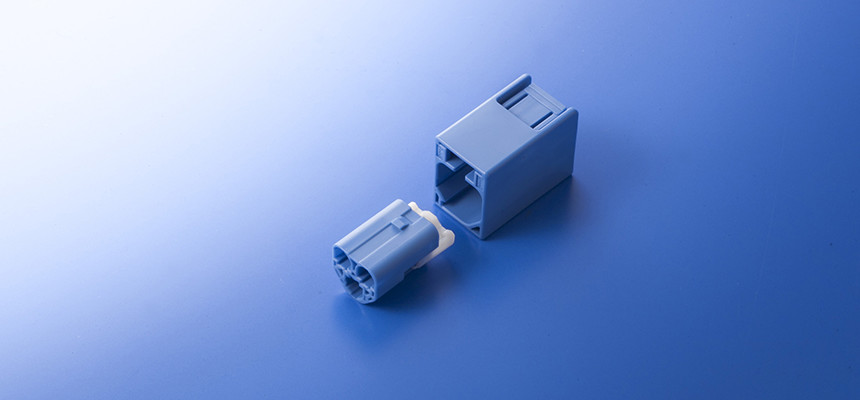 Properties
Achieving the compact structure with high performance by suppressing insertion loss and reflection loss while securing sufficient shielding performance.  Hybrid-type connector for both coaxial cable and electric wire for vehicle, and the connector for circuit boards, are also available.