Developing, Strengthening and Promoting the Risk Management System
Developing, Strengthening and Promoting the Risk Management System

Basic Approach
Within the framework of the Sumitomo Wiring Systems Group Basic Principles, the Risk Management Basic Policies clearly stipulate corporate policies that require us to give priority to human life; to strive to improve quality, secure safety and ensure a stable supply of products; and to maintain good relationships with stakeholders, including customers and local communities.
We have identified five major areas where we will make comprehensive efforts under our corporate risk management system.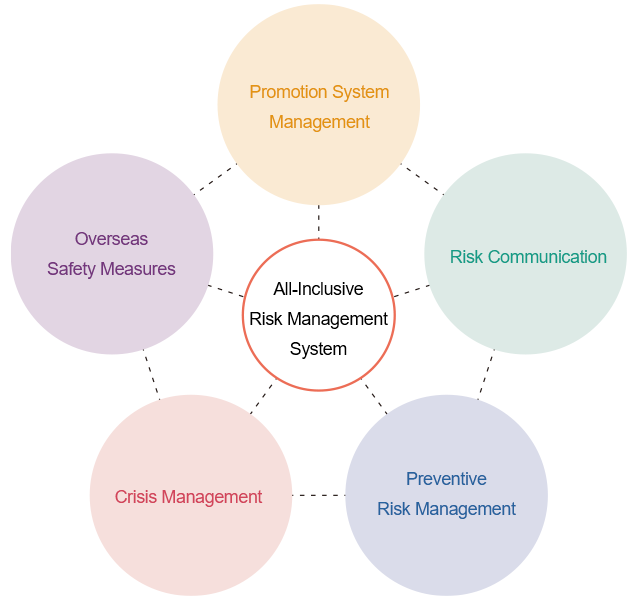 Promotion System
The Sumitomo Wiring Systems Group has set up a risk management committee to not only create an inventory of the various risks which affect our entire company, but also to promote a risk reduction strategy. Along with the globalization of business, we have seen an increase in disasters, accidents, and political instability (among other things) in various countries. Therefore, in order to strengthen global risk management, the "Risk office" was established in April 2017 to take responsibility for the risk management committee. The entire group aims at a comprehensive understanding of risk, and we have come up with and implemented a system for dealing with high risk situations. Furthermore, in their role as promoters, each company and each section nominates a"risk manager" to carry out risk management during regular hours as well as to set up a system for co-operation in times of crisis.