Developing, Strengthening and Promoting the Risk Management System
Developing, Strengthening and Promoting the Risk Management System

Basic Approach
Within the framework of the Sumitomo Wiring Systems Group Basic Principles, the Risk Management Basic Policies clearly stipulate corporate policies that require us to give priority to human life; to strive to improve quality, secure safety and ensure a stable supply of products; and to maintain good relationships with stakeholders, including customers and local communities.
We have identified five major areas where we will make comprehensive efforts under our corporate risk management system.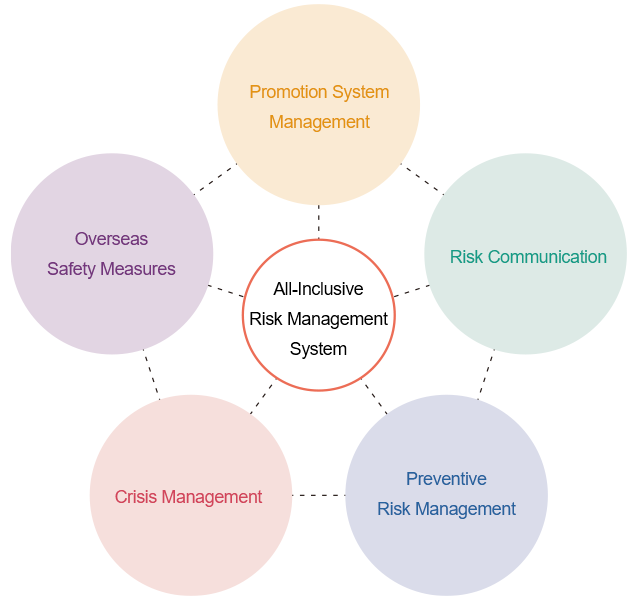 Promotion System
The Sumitomo Wiring Systems Group established the Risk Management Promotion Committee under the Risk Management Committee, with the Risk Management Office as its secretariat.In addition,we assigned risk managers to each division and domestic manufacturing subsidaries and risk management staff to each department to promote risk management efforts.With the cooperation of these risk managers, We conducted a risk inventory at 40 overseas Group companies by fiscal 2018 and formulated risk countermeasures, including a BCP for high-priority risks. We also complied risk-related information and shared with domestic and overseas group companies the actions to be taken in the event of an accident. In addition to daily risk management activities, we are developing a system that allows all our emplyees to work together to address crisis situations. We will continue to strengthen our risk management by regularly conducting group-wide risk inventories,reciewing the BCP,and implementing ongoing measures to address high-priority risks.