Issued on March 21, 2012
Sumitomo Wiring Systems, Ltd.
Notice of transferring head office operations of Sumitomo Wiring Systems, Ltd.
Sumitomo Wiring Systems, Ltd. (SWS) (Head office: Nishisuehiro-cho, Yokkaichi, Mie Prefecture, President: Fumikiyo Uchioke) has decided to transfer the head office operations from the current head office site to a new office building that will be constructed in front of the Yokkaichi Station Kintetsu Line in May 2013.

Believing that the responsibility of supplying products to customers is our most important management issue, we have promoted the ormulation of a risk management plan and business continuity plan with maximum priority placed on human life in the basic policy.
In the Great East Japan Earthquake that occurred last year, new challenges have emerged, such as measures for seismic sea waves (tsunami) of a scale exceeding predictions. The current SWS head office operations are located in coastal areas near the estimated seismic center of major earthquakes anticipated in the Tokai, Nankai and Tonankai regions. Considering this, we have examined measures to ensure business continuity by minimizing the risks of seismic damage, such as a tsunami and liquefaction.
On the other hand, development operations such as new products and new technologies are also performed in the current head office site. As a result of having enhanced the development framework according to the growth of SWS Group's business expansion, it is apparent that the current space is too small to respond to further business expansion in the future.

In light of this, we have decided to transfer our head office operations to ensure business continuity and respond to future expansion of development operations. The new office building will be a 10-story building and construction is planned to begin in April this year. We will lease the whole building. The registered address of the head office remains the same.

As head office operations are to be transferred, we will review division layout and promote risk management in the current head office site.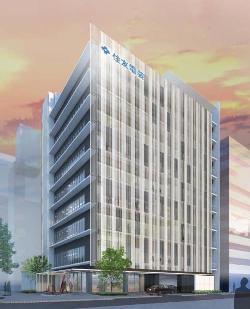 | | |
| --- | --- |
| Address | Hamada-cho, Yokkaichi, Mie Prefecture (Southeast of Yokkaichi Station Kintetsu Line: Vacant site of Resona Bank) |
| Property information (on lease) | 10-story concrete-filled steel tubular structure |
| | Construction planned to begin in April 2012 |
| | Planned to be completed in March 2013 |
| | Site area: 1,074 m2 |
| | Total floor area: 6,754 m2 |
| No. of employees being transferred | Approx. 400 |
| Time of transfer | Planned to be in May 2013 |
| | |
| | |
<Contact regarding this issue>
Public Relations Section, General Affairs Department Tel: +81-59-354-6201