Creation of a Vigorous and Lively Workplace
Creation of a Vigorous and Lively Workplace

Basic Approach
The Sumitomo Wiring Systems Group Charter of Corporate Behavior calls for respect for human rights and prohibits discrimination.A variety of training programs are provided to deepen employee awareness of and commitment to human rights. We conduct business and establish working environments with due respect for human rights and free of any discrimination based on race, nationality, ideology, sexual orientation, gender identity, age, social status, or disability.
D&I Promotion (The three pillars)
1. Management reform
By putting the Sumitomo Wiring Systems Group and the SWS WAY at the core, we aim at a management style which is not constrained by fixed concepts, but which focuses on a flexible response to the changing times and environment through group management and human resources.
2. Change in working style.
While respecting various working styles, we are setting up a working environment in which each individual can demonstrate his or her strengths by means of a working system and personnel strategies, and allowing them to continue their career, develop their abilities, provide them with more opportunities for success, and fulfil their desires.
3. Promoting diversity
Whilst proactively supporting employees in achieving work-life balance while also producing results, we train managers who can enjoy their own work and life while supporting their staff and improving the group's results.
Policy for Cultivating Human Resources
Our personnel division is devoted to implementing educational activities rooted in the "Three aspects of personnel development (mind, skills and substance)" in order to develop human resources that reflect our philosophy and policy. At the same time, the Sumitomo Wiring Systems Group directs its combined efforts toward quickly cultivating global human resources that can adapt to the globalization of our business. In addition to developing globally competitive employees, we will continue to foster human resources by providing both company- and department-wide training to build employee capacity.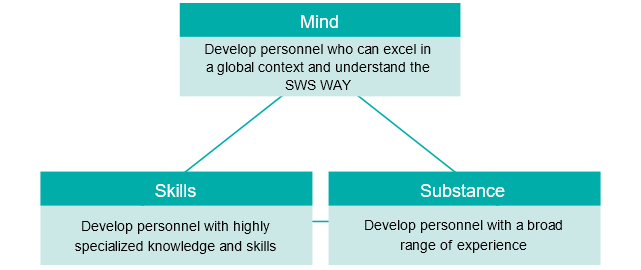 Personnel Philosophy
We will create a corporate culture that provides a positive working environment for every employee, which is driven by our belief in their individual potential, and which is in accord with their eagerness to take on challenges.
Personnel Policy
1. We respect individual initiative.
2. Our approach is based on performance.
3. We develop diverse human resources.